Transferable skills
#AvTalent#Pilots
We all recognise the amazing transferable skills that pilots and other aviation professionals have. The current situation is extremely tough and will require flexibility and openness to think beyond the flying careers that were in abundance at the start of the year.
Pilots have several transferable skills that can be applied to so many industries.
Pilots are inclusive leaders.
Pilots are team players.
Pilots are reliable and resilient.
Pilots have emotional intelligence and are able to work with different people from different backgrounds.
Pilots are technical problem solvers who are able to work with complex systems.
This is just to name a few.
To get started with the application of your transferable skills, you may find the information we have pulled together regarding CVs and Cover Letters useful.  To gain access to these materials and our other free resources, visit the Flight Pad Crew Room.
#AvTalent #Pilots
As part of the initiative to highlight the transferability of pilot skills to other roles, we are working together with our friends at Resilient Pilot and we have launched a simple way for the aviation community to support each other through the use of #avtalent to tag job opportunities on LinkedIn and beyond. The # can be used to signpost others to suitable job opportunities that require similar skills to what pilots do on a day to day basis. The # can also be used by recruiters across different industries to show openness to those from the aviation community.
We are currently in the process of speaking to various partners across different industries to educate them about the skills that exist in the aviation industry and how they could be used to bridge skills gaps in other industries.  Together with Resilient Pilot, we want to support those affected by the crisis as much as possible. This might be through helping them find a second career or temporary stop gap whilst they await for flying roles to pick up.
#avtalent is simple to use and we hope that it can be used to support the job search many pilots and other aviation professionals.
If you are a recruiter, why not tag your job with #avtalent and use a second # to indicate the aviation role you think this role could suit e.g. #avtalent #pilots (or #cabincrew #ops #engineering) and show the aviation community you are open to considering an application from them.
If you are an individual and see a role that you think could suit someone from the aviation community and want to help others find it, use #avtalent #pilots (or any of the other roles!)
Additional Resources
To find out more about the transferable skills pilots have, watch our Resilient Pilot webinar on Transferable Skills. The slides for the webinar can be downloaded here.
For our #AvTalent press release click here.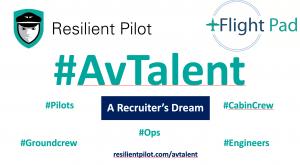 Need support, want to talk to us about your transferable skills or about hiring a pilot?
Send us a message and we'll call you back.